John-David Richardson (b.1990) is an artist and photographer from Russellville, AL. He is currently a third-year MFA candidate in Studio Art and Instructor of Record at the University of Nebraska-Lincoln and holds a BFA in Photography from Northern Kentucky University. He is a recipient of the Edgren Tuition Fellowship, the Hixson-Lied Fellowship, the Kimmel Fellowship, 2018 SPE Student Award for Innovations in Imaging, and he was awarded the Grand Prize in the 2018 PDN Student Photo Contest. His work uses his family history to address the construction of poverty in America.
PROJECT SPOTLIGHT: Someday I'll Find the Sun
2015 – 2018
I am a product of poverty. The atmosphere of my childhood prepared me for a world where economic and social worth is defined by class. I was raised by my mother and her countless male partners amidst a backdrop of violence and neglect. These men would come and go, each one exhibiting more violent and destructive behavior than the one before. My family fought to make ends meet, but their efforts constantly fell short due to addiction, domestic violence, and a lack of education. This unrelenting cycle shaped my worldview at an early age, and I came to understand family as a collision of love and hate.

My childhood memories exist only as isolated fragments of time, like a puzzle I'm continually piecing together. I use photography as a tool to remember, understand, and interpret the complex and traumatic environment that shaped me. Through my artistic process, I am looking to reconstruct my class identity by immersing myself in a once familiar place. Academia provides the intellectual distance to analyze the systemic issues that contribute to poverty. As someone who identifies with those of the underclass, I feel an obligation to address these issues through my work.

The United States is built on a history of social and political conditions principally organized to control subsets of the population. As a result, these people continue to suffer from a lack of resources. Social stratification designed by those in power allowed the upper and middle classes to identify those living in poverty as "the other." The backbone of the American Dream relies on our forefathers' assurances to life, liberty, and the pursuit of happiness. Despite these promises, for families that suffer from multigenerational poverty, this goal is often little more than a pipe dream.

In Someday I'll Find the Sun, I ruminate on my family's troubled history by building relationships with those of a similar background, finding people that are simultaneously callous and tender. Through forging these relationships, I'm coming to terms with my bloodline. Using photography, I hope to generate a conversation about the class divide that consumes our country, and the people most affected by a system constructed to benefit those in power.
When and where did Someday I'll Find the Sun begin?
I very broadly started this project my first year in graduate school at the University of Nebraska–Lincoln. The burden of poverty clouds my family history. In the early stages of the work, I was creating vignettes that referenced the broken memories from my childhood. To create this work, I needed to find a setting that felt like that of my childhood trailer, and this led me to visit two mobile home parks in Lincoln. I was able to make connections with some of the residents, and they were gracious enough to allow me into their home to shoot. After spending time with these people, I began focusing on portraiture–a departure that would eventually lead to the foundation of Someday I'll Find the Sun.
Where do you see this project going?
The project is currently in-progress, and I intend to continue the work as I leave graduate school. My MFA thesis exhibition is currently on view, and I hope to continue showing this work in the future. Ideally, I see the work functioning both in the form of a book and exhibition. I'm currently in the early stages of working on a book maquette. I love the intimacy of photo books and their ability to reach a wider audience. Ultimately, it is my goal to communicate the emotional and psychological weight of poverty honestly. The people I photograph are so often left out of the conversation, and I hope that my work can attempt to reestablish their agency.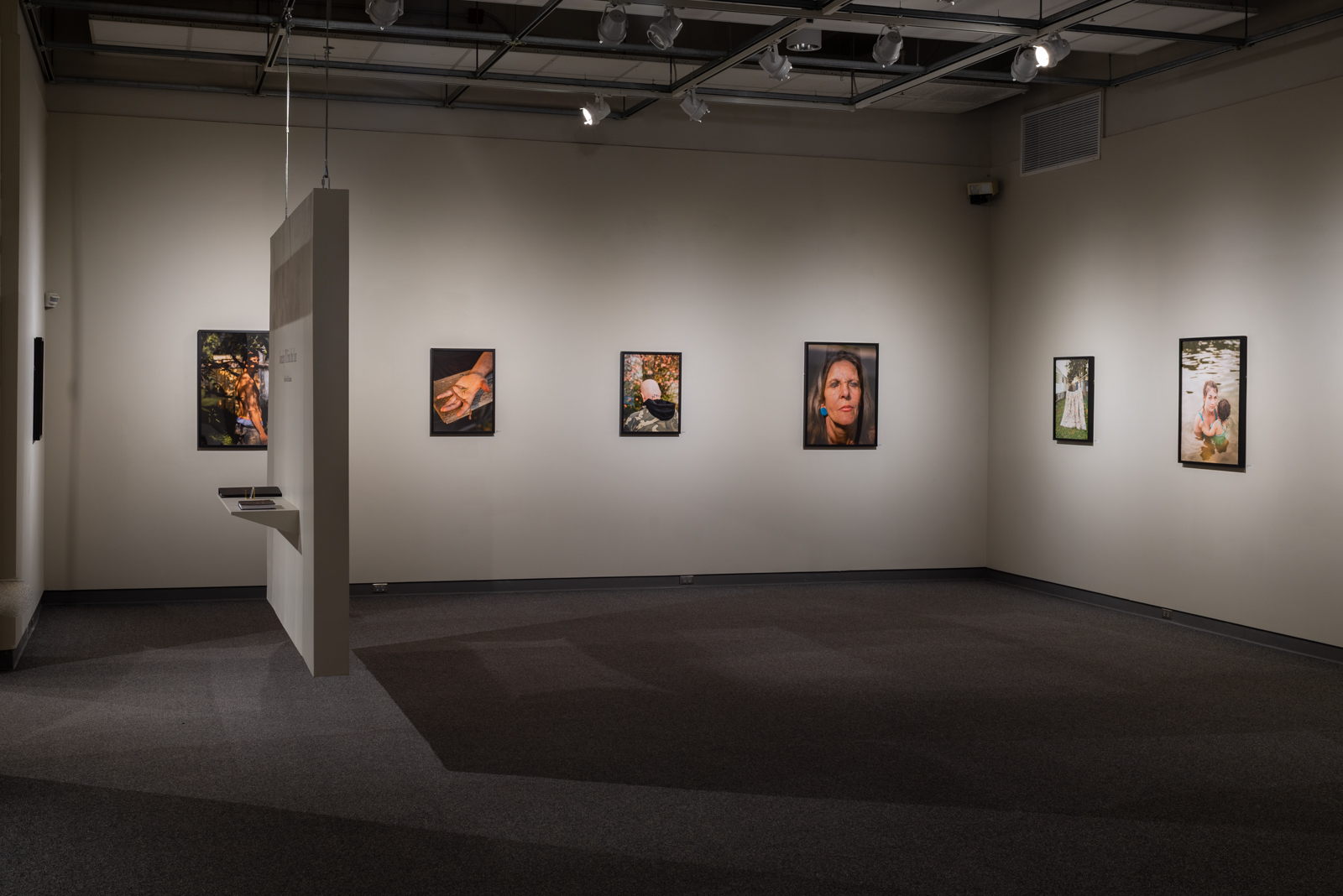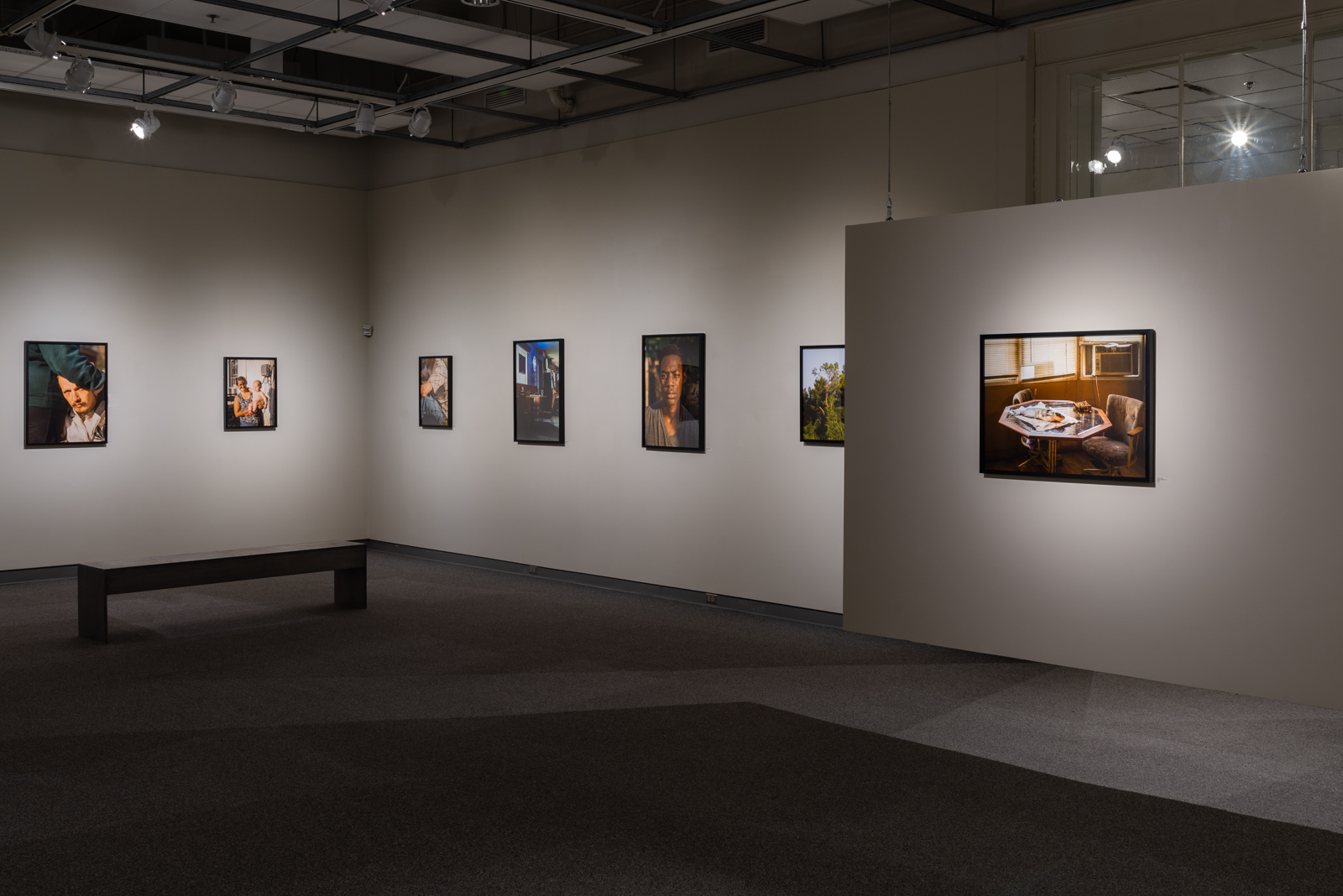 Someday I'll Find the Sun, MFA Thesis Exhibition, University of Nebraska–Lincoln, April 2–6, 2018
What helps you sustain your current creative practice?
As a graduate student, I thrive on the creative environment built by our faculty and grads, but I spend most of the time visiting and shooting with the people in my work. Coming into graduate school, I wanted to both discover and develop my practice as an artist. I thrive on continuously making, even if I'm experiencing a creative block. My process is immersive. I try to spend as much time with my subjects as possible. The time we spend together doesn't solely involve making photographs. The conversations and experiences I have with my subjects' continue to fuel my creative practice.
What's next for you?
I'll be graduating soon and moving back to the greater Cincinnati area. I intend to apply for adjunct positions, and I'm looking to find editorial and commercial while pursuing personal projects. In the meantime, I plan to continue working with Someday I'll Find the Sun in the format of a book. I also have a second project, A Place to Fall, which focuses on a group of teenage boys as they transition from teenagers to adults. Given that I've built relationships with so many of my subjects here, I plan to travel back to Lincoln over the next few years to work on both projects.
Grand Prize Winner, 2018 PDNedu Student Photography Contest
Kitchen Table, 2017 from the series Someday I'll Find the Sun